Hello. It's me, Ieva here again 🙂
This time I wanted to give you a little glimpse into how we are nurturing ourselves through food.
For many people, the way we eat here seems very restrictive. Indeed, for an average citizen of the world, it is. But actually, it gives you so much freedom in your health, thoughts, and actions, that it's worth the price.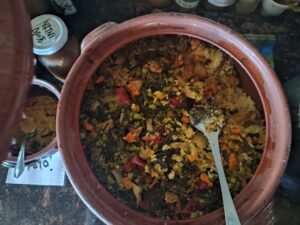 No frying, almost no sugar, no coffee, no meat and cheese… you have to soak nuts, and no cooked oil in dishes, No ljutenica and banica –
this, for Bulgarians, it's almost a nightmare!
But imagine, freshly picked green leaves and tomatoes from the greenhouse. Potatoes right from your own field. Homemade bread. Veganeze – sounds exotic, right? It's a sauce made from sunflowers. And fruits… Such abundance of fruits. We really love them here.
Yes, at first you have to be flexible and learn new ways of cooking. Using many nice spaces is one of our favorite rule here. Believe me – it's not as hard as it sounds, and it's twice as delicious as it looks. 🙂