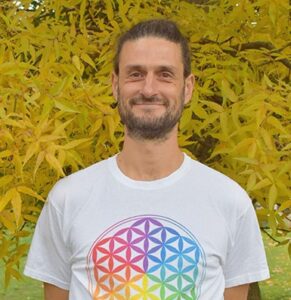 Filip Kirilov

Filip was born Sofia, where he completed his secondary language education. As an additional qualification he studied Permaculture Design and Realization.
He combines his professional path and personal development, creating a mountain-ecological-farm and good practices of living in nature and living in a community. Thanks to the successful implementation of the integrated eco-village Vegetarium Community Home, which he founded, Filip carries out international exchange, training and mutual assistance between different people, cultures and communities.
In his spare time he enjoys playing the flute, sharing, beekeeping and horseback riding.
His interests lead him to acquire new knowledge and skills in areas such as nature, healthy living and spirituality.
"I grew up in the center of the capital and as a child I dreamed of living in the woods and collecting wild fruits and herbs. After going through several schools and universities in Bulgaria and France. In 2003 I lived in a mountain eco-community on the island of French Reunion, in the Indian Ocean. In 2005 I returned to Bulgaria to apply what I had learned, founding the Trinoga Association.
In 2007 I worked together with Dr. Dimitar Pashkulev, who directed me to the Integral Approach and Healthy Thinking. Learning and applying the Integral Approach helps me to be balanced in the dynamic everyday life and to continue my overall positive transformation. I realized that personal development is a solid foundation for full cooperation.
I dream and help to cover the poor places on Earth with wonderfully abundant gardens. To give birth to and develop integrated eco-communities.
Together with friends from Integra, we build, live and share integrally structured environments. This makes me feel useful to nature and people, accompanying others who want to experience the exciting adventure of integral self-realization.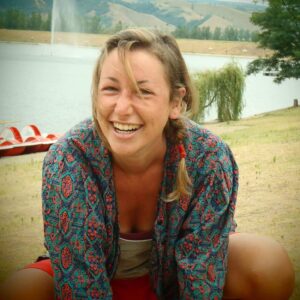 Barbara Steinmann
Barbara was born in Austria, where she completed her higher education. She lived and worked there until she was 21 years old. In 2013 she began to travel, realizing her interests in the field of personal development, ecology and environmental protection.
In the following years she visited different countries, got acquainted with various cultures and explored their way of life. There she had the opportunity to touch their traditions and taste local fruits. She has been helping as a volunteer in various eco-communities she visited.
An adventurous trip on a bicycle in 2015 took her to Bulgaria. Since then, she has been involved in ecological farming and practices in the Integrated Approach in the eco-village "Vegetarium Community Home" in Stara Planina.
Barbara enjoys her free time on horseback riding, movies and reading books. She dreams of developing her professional practice in the field of eco ethics, teaching yoga, intuitive dances and ecological gardening.
"One of my most difficult but rewarding journeys was my bicycle trip from Austria to Bulgaria in 2015. This trip brought me personal growth, and I found myself in the village of Zhelen in the Balkan Mountains. Here I met Filip and Dr. Pashkulev with his works in integral theory and practice.
M.D. Dimitar Pashkulev
Dr. Dimitar Pashkulev was born in the town of Bratsigovo, but grew up mainly in Velingrad. From an early age he showed interests in various fields such as science, psychology, poetry and chess.
He graduated in medicine in Plovdiv, and developed his professional career in Sofia in the period 1989-2016, where he practiced phytotherapy, nutrition and complex naturopathy. In the meantime, he works in a broad medical profile – general medicine, internal medicine, application of essences and minerals, techniques for self-regulation, etc.
He also supports with his author's works the passage of the first periodicals in natural and complex medicine such as "Healer", "Gift", "Newspaper-Book" and others.
After this period, he increasingly deepened his practice in developing comprehensive health programs, including as a chief physician and specialist in natural medicine at the Vita Rama Medical Center.
Conducts numerous trainings in the Integral Approach, developing an author's system of essential knowledge, skills and attitudes. It becomes the so-called An open-pragmatic version of the Integral Approach, on the basis of which the educational activity of the Integra Foundation is based today.
Dr. Pashkulev conducts fundamental trainings in the Integral Eco Village "Vegetarium Community Home", actively participating in the development of the project for a full life in nature and community life.
Over the years, he has successfully consulted a number of companies for the production of natural products for indoor and outdoor use (with their own, as well as jointly prepared recipes), some of which are of key application worldwide.
He has published over 20 of his own books on medicine, psychology, pedagogy and poetry, as well as participated (as a co-author, editor and reviewer) in dozens of other editions of Kibea, East-West and Homo Futurus.
"I love nature, tourism and gardening, the various arts (and mainly their therapeutic and pedagogical applications). Although semi-conscious, I have been interested in an integrated approach since adolescence, and over time this became clearer and became a generalizing life vocation. I have participated in earlier projects in this direction, including the MIR project (2003-2007) and I have completed (in 2012-2013) integrated coaching training led by Benz Ganti (a direct student of Ken Wilber). In the spring of 2020, I initiated the Integra project, in which, for the first time, we met with thematic collaborators, including specialists who can further develop existing developments and turn them into effective training options.
My motto is: It is good to know more truths, but what is really important is to live more truly! "